iTunes: ANTI is No. 1 in the U.S. and over 50 countries
Rihanna is proving that even after 1.4 million downloads and 13 million streams on TIDAL, people just can't get enough of her new album, ANTI.
To make sure you don't miss any Rihanna news, simply turn on @RihannaDaily's Twitter notifications.
Released worldwide at midnight this Friday (January 29), ANTI is already No. 1 on iTunes in the United States and over 50 other countries, including: United Kingdom, Antigua and Barbuda, Argentina, Austria, Azerbaijan, Barbados, Bermuda, Brazil, British Virgin Islands, Bulgaria, Canada, Cape Verde, Cayman Islands, Chile, Colombia, Costa Rica, Cyprus, Czech Republic, Denmark, Dominican Republic, Egypt, El Salvador, Finland, France, Ghana, Greece, Grenada, Italy, Kazakhstan, Kenya, Laos, Lebanon, Luxembourg, Mongolia, Netherlands, Nigeria, Norway, Panama, Poland, Portugal, Qatar, Romania, Saint Kitts and Nevis, Slovakia, South Africa, Sweden, Switzerland, The Bahamas, Trinidad and Tobago, Uzbekistan, Zimbabwe.
Is ANTI already #1 in your country? Let us know on Twitter!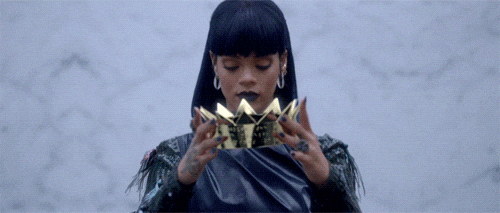 Related articles:
Drake Joins N.E.R.D. & Rihanna on New 'Lemon' Remix
Drake opens a new remix of "Lemon," N.E.R.D. and Rihanna's collaboration off of 2017's No One Ever Really Dies.
Pharrell premiered the track during a guest mix on OVO Sound Radio Saturday night (March 17). He then tweeted a preview of the "Lemon" remix, which is now available on Apple Music, iTunes and Spotify.
Original version:
Rihanna releases "Consideration (Dance Remixes)"
New Music: N*E*R*D feat. Rihanna – Lemon
N*E*R*D is back and for their first comeback single they invited Rihanna! Check out the brand new track called "Lemon" where we can hear Rihanna…rapping! Welcome the new Queen of Rap everyone!
Listen on Tidal | Spotify | iTunes
LYRICS
[Intro: Pharrell Williams]
The truth will set you free
But first, it'll piss you off
[Verse 1: Pharrell Williams]
Hey! Bad bitches wanna be my bae
Hey! Hold me down like the C.I.A
Hey! Side of my car, tryna see my face
Hey! Want me to beat it like the T.I. case
Oh (hey!) and if it's heated I'ma be my face
Hey! And best believe, it's gon' be outrageous
Hey! Hatin' niggas can't believe my race
Hey! Niggas hit you with the Eli face, oh
[Refrain: Pharrell Williams]
Bouncin' around, bouncin' around, bouncin'
Bouncin' around, bouncin' around, bouncin'
Scrunchin' their eyes with your name in their mouth and
Bouncin' around, bouncin' around, bouncin'
[Verse 2: Pharrell Williams]
Hey! You keep askin' me where I'm from
Hey! I brought the borders and did I run?
Hey! Keep askin' how I feel 'bout guns
Hey! It's a light and dark army, which side you choose? Oh
Hey! If not now then when?
Hey! And if not me then who?
Hey! Don't drink the Kool-Aid, my friends
Hey! I tried to tell y'all about this dude
[Refrain: Pharrell Williams]
Bouncin' around, bouncin' around, bouncin'
Bouncin' around, bouncin' around, bouncin'
Hate [?] found right in their couches
Bouncin' around, bouncin' around, bouncin'
Wait, wait a minute
Shout out to them people, people
Wait, wait a minute
P-p-p-people, people
Wait, wait a minute
Mad ethnic right now
[Chorus: Rihanna]
I get it how I live it
I live it how I get
Count the mothafuckin' digits
I pull up with a lemon
Not 'cause she ain't livin'
It's just your eyes get acidic
And this here ain't a scrimmage
Mothafucka, we ain't finished
I told you we won't stop
A nigga 'bout his business
Like yours, but you rented
Wave hello to the top
Nigga the Veyron glide
Tell the paparazzi get the lens right
Got the window down, top, blowin' la
Got the hazard on, only doin' five
You can catch me, Rih, in the new La Ferrar'
[Verse 3: Rihanna]
And the drop behind got arms
Yeah, longer than LeBron
Just waitin' for my thumb like The Fonz
Woo! This beat tastes like lunch
But it's runnin' from veneers and it's runnin' from the fronts
But everyday, hey, we're lemonade
I was afraid, once a nigga graduate
Would I be okay?
So I prayed and I prayed
It's Rihanna, nigga
My constellation in space
Worst [?], done sparked dem chase, nigga
[Bridge: Pharrell Williams]
Nigga, bath salt, bitin' speakers in the face
Bath salt, bitin' speakers in the face
Bath, bath salt, bitin' speakers in the face
Bath, bath salt, bitin' speakers in the face
Bath, bath salt, bitin' speakers in the face
Bath, bath salt, bitin' speakers in the face
Bath, bath salt, bitin' speakers in the face
Bath, bath salt, bitin' speakers in the face
Bath, bath salt, bitin' speakers in the face
[Chorus: Pharrell Williams]
I get it how I live it
I live it how I get
Count the mothafuckin' digits
I pull up with a lemon
Not 'cause he ain't livin'
It's just your eyes get acidic
And this here ain't a scrimmage
Mothafucka, we ain't finished
I told you we won't stop
A nigga 'bout his business
Like yours, but you rented
Wave hello to the top
Nigga the Veyron glide
Tell the paparazzi get the lens right
Got the window down, top, blowin' la
Got the hazard on, only doin' five
You can catch me…
[Refrain: Pharrell Williams]
Bouncin' around, bouncin' around, bouncin'
[Outro: Pharrell Williams]
You can catch me
Wait, wait a minute
Wait, wait a minute
Wait, wait a minute
Wait, wait a minute
Wait, wait a minute
Wait, wait a minute
Wait, wait a minute
Wait, wait a minute