What do we know so far: ANTIdiaRY – #R3 Closet
At midnight another ANTIdiaRy room was opened. R3 – The Closet! This room is clearly a reference to Rihanna's Good Girl Gone Bad era. She took control of her image and music. Once again we've decided to put together for you what we've found in the room!
VISIT IT ON YOUR MOBILE DEVICE
Before we enter the Closet we can watch a new trailer with Rihanna and creepy french maids.
Rihanna enters the room, dressed in her "innocent" clothes. The maids show her a liquid mirror. The ANTI child then appears and takes Rihanna's hand. She follows "her dream" and changes. Her look changes completely.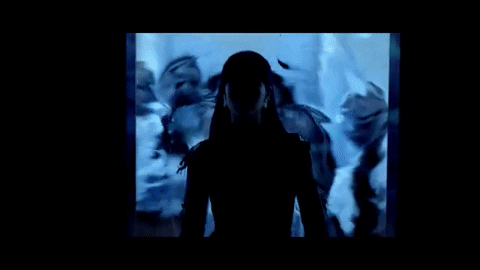 Read more after the jump.
We enter The Closet. While we move to the right side we see the maids. While pointing on them we load another video.
https://www.youtube.com/watch?v=o9Uq33XisnY
The main woman has braille all over her face
We look around the closet.
In the mirrors we see a reflection of ANTI child. When pointing on one of them we can create our own ANTI image. You can share it on your social media.
While pointing on the Samsung phone on the chair you can access some images (if you are using Samsung Galaxy device). Don't worry, we got these images for you in case you do not own Samsung device.
One of these images is a sheet of paper with handwritting
The SpyNavy (yup, that's a new thing now) also found a secret code inside HTML. When you translate the binary code (which were also spotted in previous rooms) you get more images. Thanks for ATRL users to spot this out.
Some of the images can be put together.
And some not yet.
In case we missed anything e-mail us!
Related news:
Rihanna wins NAACP Image Award
Rihanna and Kendrick Lamar won the NAACP Image Award for "Outstanding Duo, Group or Collaboration" for LOYALTY.
Congratulations to both of them!
This is the first time Rihanna wins a NAACP Image Award, an annual awards ceremony presented by the American National Association for the Advancement of Colored People to honor outstanding people of color in film, television, music, and literature.
Watch LOYALTY. again:
Demi Lovato plays "Who'd You Rather?" on Ellen and proves her love for Rihanna
During an appearance on The Ellen DeGeneres Show on Monday, Demi Lovato engaged in a spirited game of "Who'd You Rather" which revealed that her #1 celebrity crush is Rihanna, followed closely by Kristen Stewart and Niall Horan.
In "Who'd You Rather," Ellen shows photos of two celebrities and asked the guest who they'd "rather."  The celeb the guest picks then goes on to be matched up with the next celeb, and so on. Watch:
Image via RIHANNA.com.br
Rihanna nominated in 5 categories at the 2018 iHeartRadio Music Awards
The 2018 iHeartRadio Music Awards are set to take place on Sunday, March 11th at the historic Forum in Los Angeles. For the fifth straight year, the ceremony will celebrate the biggest songs and artists heard throughout the last year across radio stations nationwide and the iHeartRadio app … and the nominees are in!
Receiving multiple nominations this year are Rihanna, Taylor Swift, Ed Sheeran, Bruno Mars, Luis Fonsi, Daddy Yankee, Justin Bieber, DJ Khaled and The Chainsmokers.
Rihanna nominated in 5 categories at the 2018 iHeartRadio Music Awards
Female Artist of the Year
R&B Artist of the Year
Song of the Year (Wild Thoughts)
Best Collaboration (Wild Thoughts)
Hip-Hop Song of the Year (Wild Thoughts)
The 2018 iHeartRadio Music Awards will be simulcast live on TBS, TNT and truTV at 8pm ET/5pm PT on March 11th, as well as on iHeartMedia radio stations across the country and on the iHeartRadio app. The show will feature live performances from today's superstar performers, once-in-a-lifetime artist collaborations, celebrity guest appearances, and more.
Watch Rihanna at the 2014 show:
Rihanna also performed "Bitch Better Have My Money" at the 2015 show: