What do we know so far: ANTIdiaRY – #R3 Closet
At midnight another ANTIdiaRy room was opened. R3 – The Closet! This room is clearly a reference to Rihanna's Good Girl Gone Bad era. She took control of her image and music. Once again we've decided to put together for you what we've found in the room!
VISIT IT ON YOUR MOBILE DEVICE
Before we enter the Closet we can watch a new trailer with Rihanna and creepy french maids.
Rihanna enters the room, dressed in her "innocent" clothes. The maids show her a liquid mirror. The ANTI child then appears and takes Rihanna's hand. She follows "her dream" and changes. Her look changes completely.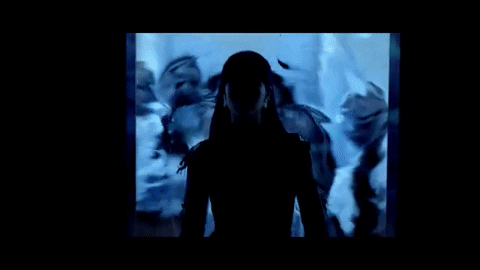 Read more after the jump.
We enter The Closet. While we move to the right side we see the maids. While pointing on them we load another video.
https://www.youtube.com/watch?v=o9Uq33XisnY
The main woman has braille all over her face
We look around the closet.
In the mirrors we see a reflection of ANTI child. When pointing on one of them we can create our own ANTI image. You can share it on your social media.
While pointing on the Samsung phone on the chair you can access some images (if you are using Samsung Galaxy device). Don't worry, we got these images for you in case you do not own Samsung device.
One of these images is a sheet of paper with handwritting
The SpyNavy (yup, that's a new thing now) also found a secret code inside HTML. When you translate the binary code (which were also spotted in previous rooms) you get more images. Thanks for ATRL users to spot this out.
Some of the images can be put together.
And some not yet.
In case we missed anything e-mail us!
Related news:
Rihanna's Fourth Diamond Ball to Be Held in NYC
We are just two months away from this year's Diamond Ball on September 13! Here's a look back at last year to start off our countdown:
The third Diamond Ball raised over $5 million to support CLF's global education, health and emergency response programs around the world. The evening featured high-energy performances by Grammy Award-winning recording artists Kendrick Lamar and Calvin Harris.
"I am thrilled to bring the Diamond Ball to New York City and bring everyone closer to the mission, the partnerships, the programs and the people at the heart of it all," said Rihanna at the 2017 Diamond Ball. "Together, we are funding groundbreaking and effective global education, health and emergency response programs. We are investing in the future and helping to improve the quality of life for young people and their families around the globe."
Read more about Rihanna's Clara Lionel Foundation.
Rihanna nominated for the 2018 MTV VMAs
Congratulations to N.E.R.D and Rihanna! Their 2017 collab "Lemon" is nominated for Best Collaboration and Best Editing at the 2018 MTV Video Music Awards.
The 2018 VMAs will air live from Radio City Music Hall in New York on Monday, August 20. Vote here.
In 2016, Rihanna performed four times at the VMAs and took home the Michael Jackson Vanguard Award. Watch below:
Rihanna among TIME's 25 Most Influential People on the Internet
For TIME's fourth annual roundup of the most influential people on the Internet, TIME evaluated contenders by looking at their global impact on social media and their overall ability to drive news. Here's who made this year's unranked list, including Rihanna:
When Rihanna speaks—or, more precisely, 'grams—the world listens. In March 2018, she posted an Instagram story denouncing an ad that appeared on Snapchat that used her image to make light of domestic violence, of which she is a survivor. Soon after, Snap Inc. lost $800 million in value. In May, she posted photos of herself in swimwear with visible stubble on her legs, inspiring a wave of online declarations that shaving, for this summer at least, is no longer required. But part of what makes the 30-year-old singer and entrepreneur so successful on the Internet is her own ability to listen. She listened and heard that there was a large segment of the population that felt underserved by the beauty and fashion industries, and she responded with her wildly successful makeup line, Fenty Beauty, and lingerie line, Savage x Fenty. Both were instant hits, thanks in part to Rihanna's savvy use of social media to market them. The money—and the followers—are pouring in, with no signs of slowing. —Eliza Berman